The UN's nuclear watchdog has issued a warning over "increasingly unpredictable and potentially dangerous" activity near Europe's biggest power plant; Crimea was struck by 10 drone strikes overnight in the latest sign of intensifying attacks on the peninsula.
Russian author wakes from coma after car bombing
A pro-war prominent Russian author has woken up from a coma after being wounded by a car bomb.
Zakhar Prilepin's driver was killed in the blast yesterday in a village east of Moscow.
He was put in an induced coma, but has since become alert, stable and "cheerful", according to the governor of the Novgorod region, Andrey Sergeyevich Nikitin.
"Everything is fine, God bless him with health," he said.
Russia has said a suspect admitted acting on behalf Ukraine's special services, before going on to also blame the US.
Ukrainian officials have not commented directly on the allegations.
Mr Prilepin is a political establishment name, having won a seat in the lower house of the Russian parliament as a member of a Kremlin-backed party, before giving it up.
Last year, he was sanctioned by the European Union for his support of Russia's invasion.
'Combat cat' on the lookout in light-hearted video
Amid the shelling, bomb-drones and gunfire, "combat cat" Shayba has been providing Ukrainian soldiers with some much-needed comic relief.
In a light-hearted video posted by the general staff of the armed forces, Shayba can be seen "wishing you a nice and quiet Sunday evening".
With their owner Oleksandr, of the territorial defence force, the general staff account said: "Together we will win."
Drone attacks overshadow Russia's Second World War victory celebrations
Security concerns may overshadow Russia's Second World War victory celebrations next Tuesday.
Victory Day is a key patriotic anniversary for Vladimir Putin, but drone attacks have led several Russian regions to scale back events.
Even in Moscow, there appears to have been fewer military personnel and less military hardware involved in rehearsals for the Red Square parade.
Some residents still want the celebration to go ahead. Andrei Kucheryavykh, a resident of Belgorod near the Ukrainian border, visiting Moscow with his son, said: "I think we need to hold [the parade] to boost patriotism among people as it is fluctuating due to the special military operation."
"People have to know what our great-grandfathers, our grandfathers and grandmothers went through… as many are beginning to forget what May 9 is and what it stands for."
The Soviet Union lost 27 million people in the Second World War, more than any other country.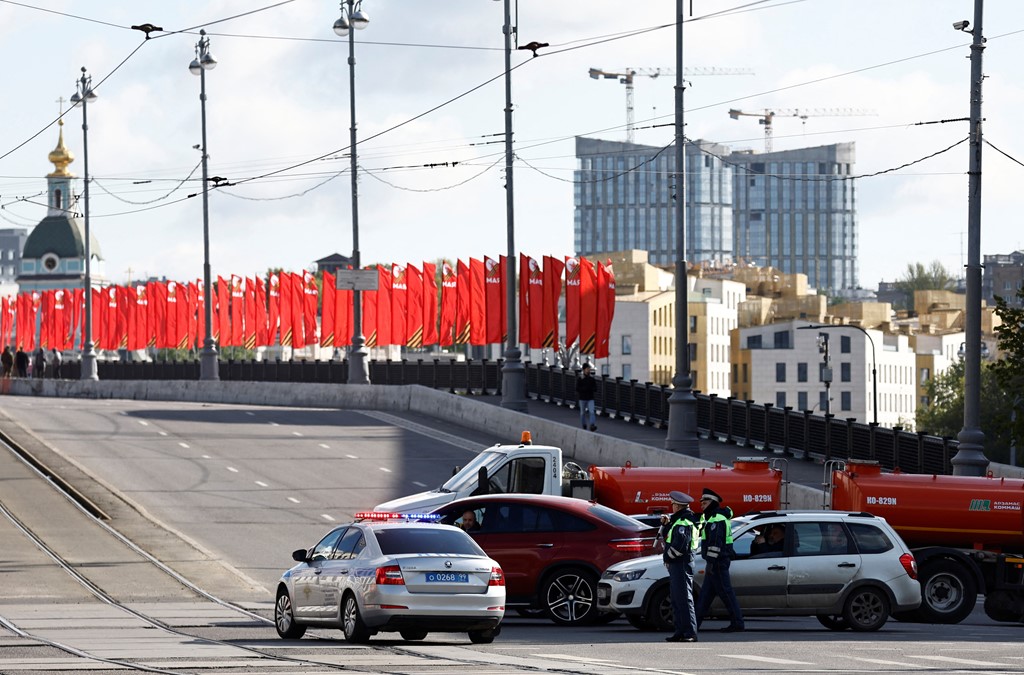 Ukrainians who accepted Russian passport 'evacuated first' from town near nuclear plant
Ukrainians with Russian passports are being evacuated from a town near the Russian-occupied Zaporizhzhia nuclear power plant, the Ukrainian military said.
Its general staff said they were being taken to the port city of Berdyansk and the town Prymorsk, both on the coast of the Sea of Azov.
This comes after the head of the UN's nuclear power watchdog warned of the threat of a "severe nuclear accident" at the plant, as Ukraine and Russia accused each other of shelling near the site.
"The first to be evacuated are those who accepted Russian citizenship in the first months of the occupation," Ukraine said.
For context: Ukraine is expected to start soon a much-anticipated counteroffensive, including in the Zaporizhzhia region.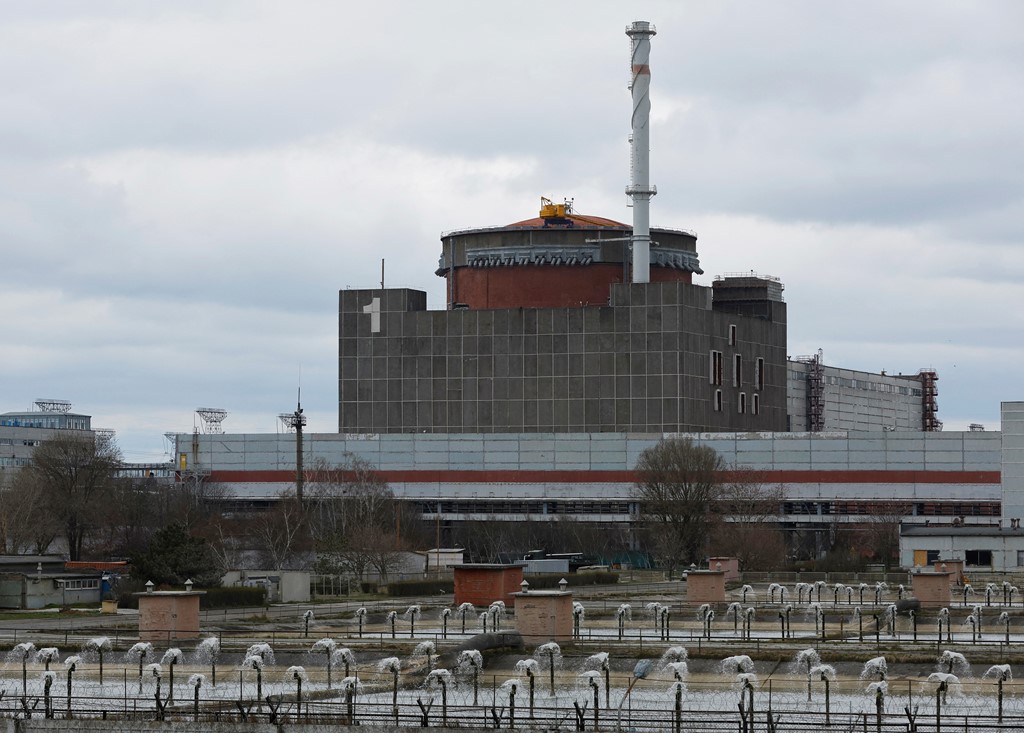 Russia says 22 Ukrainian drones destroyed over Black Sea
Russia's air defences detected and destroyed 22 Ukrainian drones over the Black Sea overnight, the country's defence ministry said today.
Separately, the defence ministry said its forces had gained more ground in the Ukrainian city of Bakhmut, claiming two "blocks" in the northwestern and western parts of the city.
The report comes after a Russian-installed official said earlier that Ukraine had launched drones at Crimea overnight, without providing details.
Sky News has not been able to verify the latest claim.
Military drills in Donetsk
Ukrainian service members from the 80th Separate Air Assault Brigade throw grenades and fire rockets during a military exercise in the Donetsk region.
It takes place ahead of a widely expected counteroffensive, using military assistance provided by Ukraine's allies over the last few months.
'Aggressive' Russian jet flies at Polish plane three times in near miss
A European Union border guard aircraft was on patrol over the Black Sea when a Russian SU-35 carried out  "aggressive and dangerous manoeuvres", according to a border guard spokesperson.
The Polish aircraft temporarily lost control after the Russian plane crossed in front of it – just five metres from its nose – leading to turbulence and a loss of altitude, Anna Michalska said.
The Russian jet approached the Polish crew three times before flying away, she added.
Romanian and Spanish combat aircraft were put on standby to intervene, but this did not prove necessary.
The Romanian defence ministry said the behaviour was completely unacceptable and was evidence of Russia's "provocative" attitude in international airspace over the Black Sea.
"It looks like a planned provocation by Russia," Polish government spokesman Piotr Muller told Polsat News.
"We can see that Russia is trying to draw international attention."
Arrests after attack on airfield deep inside Russia 'foiled'
Russian security forces say they have foiled a drone attack on a military airfield in central Russia.
They detained the pilot of the light aircraft and members of a "sabotage group" in the Tula region, the FSB said.
Ukraine had tried to destroy a radar detection plane 435 miles from the border at Severnyy aerodrome in the Ivanovo region, its statement read.
Kyiv has denied being involved in attacks inside Russia, blaming them on "false flag" operations orchestrated by Moscow or anti-government groups.
Sky News cannot verify these battlefield reports.
Covid and war causing 'worst Russian labour shortage in decades'
Covid and the war has caused the "worst labour shortage in decades" in Russia, according to British military intelligence.
Its population was two million people fewer than was expected over the last three years.
The Russian Central Bank surveyed 14,000 employers and found that the number of available employees was at its lowest level since 1998, the UK Ministry of Defence said.
"Many younger and well-educated people in high-value industries" were among 1.3m people who left the country in 2022.
The Russian Ministry of Communications said that about 10% (100,000) of the IT workforce did not return.
"Mobilisation, historically high emigration, and an ageing and shrinking population is limiting the labour supply," said the UK MOD.
"This will likely lead to a reduction in the potential growth of the Russian economy and risks stoking inflation."
What's going on at the Zaporizhzhia power plant?
Earlier we reported how the UN's nuclear watchdog was "extremely concerned" about the threat to nuclear safety at the power plant.
Here we lay out how the facility has featured in the war and the latest military movements around it.
The Zaporizhzhia nuclear power plant, Europe's biggest, found itself at the frontline from the start of the Russian invasion.
By early March last year, it was under occupation and Moscow currently controls around 80% of the region.
Regular shelling near the facility ensued, with power outages, damage to a radioactive waste storage building and reports of landmine explosions near the perimeter fence, according to the National Energy Agency.
Energoatom, the operator, and the UN's nuclear watchdog have issued warnings over the past year, and its six reactors were shut down as a safety precaution last month.
But concerns haven't stopped Russian soldiers from setting up defensive sandbag positions on top of the reactor buildings, according to the UK Ministry of Defence.
Recent activity
Ukraine and Russia have accused each other of near-constant shelling near by.
With the region expected to feature in Ukraine's counteroffensive, Russian-installed governor Yevgeny Balitsky said Kyiv had intensified attacks on the area in the past several days.
He ordered the evacuation of 18 settlements in the area to the Azov Sea coast, 120 miles away – which Ukrainian officials say is already under way.
Complicating matters further is a dam in Southern Ukraine which could be overwhelmed by record high water levels and flood the power cable for the plant's pumping stations, a Russian official said.
Rafael Grossi, director general of the UN's International Atomic Energy Agency, has made a number of interventions for the plant's safety, and the tone of his latest statement implies some growing anxiety.
As well as urgently warning of a "severe nuclear accident", he explained his staff – who have been reduced to a third – "are continuing to hear shelling on a regular basis."
There are "increasingly tense, stressful and challenging conditions for personnel and their families," he said.
Wagner promised 'as much ammunition as it needs' after dramatic video
Wagner has been promised as much ammunition and weaponry as it needs to assault Bakhmut, said its leader, after he threatened to withdraw.
This is the latest in a long-running, bitter saga between Yevgeny Prigozhin and the Russian defence ministry, on behalf of which his mercenaries are fighting.
Two days ago, he stood in a field of bloodied corpses and swore at the defence minister, complaining that his men had been starved of ammunition and suffered "useless and unjustified" losses.
"They came here as volunteers and they're dying so you can get fat in your offices," Mr Prigozhin said in a video.
As is often the case with internal Russian military politics, it is difficult to identify what machinations led to this about-turn. But if the last year of drama between the private military company and the Russian army is anything to go by, this is unlikely to be the last episode.
Explosions in Crimea during 'drone attacks'
Explosions rocked annexed Crimea as Ukraine launched more than 10 drone strikes overnight, a Russian-backed official said.
The port of Sevastopol was hit by three but "no objects were damaged," said its Moscow-installed governor, Mikhail Razvozhayev.
Saki, where Russia has an air base, was also struck in the assault, according to Ukrainian monitoring of Telegram channels.
Preliminary information suggests there were no casualties from the blasts, reported Baza, a Telegram channel with links to Russia's law enforcement agencies.
For context: Strikes in Crimea have intensified in the past two weeks, without Ukraine confirming any role in the attacks.
UN's 'extreme concern' over 'threat of a severe nuclear accident'
The UN's nuclear watchdog has expressed "extreme concern" for the safety of Europe's biggest power plant as military activity becomes "increasingly unpredictable and potentially dangerous".
Rafael Grossi, director general of the International Atomic Energy Agency, called for immediate action "to prevent the threat of a severe nuclear accident".
Fire has been exchanged near the plant in Russian-occupied Zaporizhzhia, and the UK Ministry of Defence reported soldiers were constructing defensive positions from sandbags on reactor buildings in March.
"The general situation in the area near the Zaporizhzhia nuclear power plant is becoming increasingly unpredictable and potentially dangerous," said Mr Grossi said.
"I'm extremely concerned about the very real nuclear safety and security risks facing the plant. We must act now to prevent the threat of a severe nuclear accident and its associated consequences for the population and the environment."
Mr Grossia has repeatedly warned of the dangers of military operations around the plant, visiting in March to lobby for an agreement on safeguards between Ukraine and Russia.
Ukraine's counteroffensive is expected to include the Zaporizhzhia region, and its Russian-installed governor ordered the evacuation of villages close to the front line last week.
He said Ukrainian shelling had intensified in the area in recent days.
Ukrainian authorities said 30 shells have been fired at Nikopol, a town they control near the plant, killing a 72-year-old woman.
Good morning
Welcome back to our live coverage of the war in Ukraine, after a pause to our blog yesterday.
Before we launch back into reporting all the key events today, it's worth looking back at what happened over the past 24 hours.
A prominent Russian nationalist writer and war advocate, Zakhar Prilepin, was wounded in a car bombing that killed his driver – which the Kremlin blamed on Ukraine and the US.
Another apparent prisoner swap resulted in 45 fighters returning to Ukraine and at least three pilots freed to travel back to Russia. The Ukrainian soldiers, of the Azov battalion, were captured during the failed defence of Mariupol.
And things have been heating up in disputes between the leader of the Wagner paramilitary group and the Russian army, after Yevgeny Prigozhin swore at the defence minister over ammunition supplies in a video of purported mercenary corpses.
Russian theatre director appears in court accused of 'justifying terrorism'
A prominent Russian theatre director has been remanded in custody after being accused of justifying terrorism with an award-winning play about Russian women who married Islamic State fighters, state news agency TASS reported.
Investigators opened a case this week against Yevgenia (Zhenya) Berkovich and playwright Svetlana Petriychuk, claiming that Petriychuk's "Finist, the Brave Falcon", which premiered in 2020 under Berkovich's direction, had broken the law.
Moscow has intensified a clampdown on freedom of expression, and encouraged citizens to report anyone they suspect of demonstrating disloyalty since Russia's invasion of Ukraine.
"Finist, the Brave Falcon" won two "Golden Mask" national theatre awards last year, and Berkovich also received a nomination for best director.
The detention of the two women has drawn condemnation from several prominent Russian artists and cultural figures.
Journalist Ksenia Sobchak said the case against them showed "rampant ignorance", and that the play in fact had an anti-terrorist message.
Wagner boss says truth behind former defence minister's appointment is 'secret'
We return briefly to the subject of Colonel General Mikhail Mizintsev, the former Russian deputy defence minister who is believed to have joined the Wagner Group private militia as a deputy commander.
The development, alongside other statements over recent days from Wagner founder Yevgeny Prigozhin, has prompted widespread speculation that the mercenary leader may be intensifying efforts to strengthen his position amid growing rumours of a Kremlin power struggle.
In a video statement, Prigozhin praised Gen Mizintsev but did not confirm that he had been hired.
Reuters news agency is now reporting that in response to its question, he said that in wartime, such matters were "secret".
Regions across Ukraine announce air alerts
The capital Kyiv and most Ukrainian regions have announced air alerts, officials said.
The number of alerts has risen sharply in recent days, after Russia claimed Ukraine had attempted to assassinate Vladimir Putin in a drone attack early Wednesday morning – something Kyiv denies.
Kyiv alone has issued six alerts warning of Russian attacks in the last three days.
Putin discusses Victory Day parade with Security Council
Vladimir Putin discussed preparations for Tuesday's Victory Day parade in a meeting with his Security Council today, the RIA Novosti news agency reported citing the Kremlin.
Moscow said the parade will go ahead despite its assertion Ukraine tried to kill Mr Putin in a drone attack on the Kremlin in the early hours of Wednesday morning.
Kyiv has denied any involvement in the incident.
Expected Ukrainian counteroffensive prompts evacuations
People are leaving the Ukrainian city of Kherson ahead of a curfew and the Russian-installed governor of the Zaporizhzhia region has ordered the evacuation of villages close to the frontline ahead of a widely-expected Ukrainian counteroffensive.
Small buses and dozens of cars left Kherson today ahead of a 58-hour curfew following a spate of Russian attacks before the Ukrainian counteroffensive.
Kherson, which Kyiv recaptured from Russia last November after eight months of occupation, is regularly bombarded from across the River Dnipro.
Two villages in the Ukrainian-controlled part of the Kherson region were hit four times today by Russian guided bombs, which destroyed a church building and damaged 20 homes, wounding one person, the regional administration said.
Meanwhile, the Russian-installed governor of the southeastern Zaporizhzhia region has ordered the evacuation of villages close to the frontline, saying Ukrainian shelling had intensified in recent days.
A widely expected Ukrainian counteroffensive is likely to take place in the region, where Russian forces hold around 80% of the territory.